NOUVELLE COLLECTION

HIVER 23-24
INSPIRÉE PAR LE SUD, LE SOLEIL ET LES ANNÉES 70'S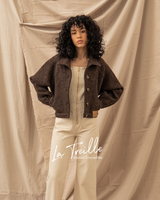 Message from the designer
French know-how to be preserved
We are committed to providing sustainable and ethical fashion to dress women and girls responsibly. 
In a resolutely retro and bohemian style, we use raw and natural materials with always a touch of warm color that reminds us of the Earth and the Sun.
The embroidery and dyes of La Treille are handmade in our house in the South, in order to make each garment unique.
Marine, the sunny girl
NOTRE HISTOIRE